==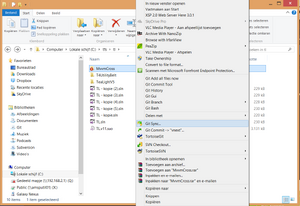 TFS and Git== TeaLight sources are both stored in TFS and Git source control. For this reason you will need both of these installed.
The sources of TeaLight are stored in VisualStudio.com using the TFS source control. If you have Visual Studio 2012 installed then normally you wouldn't need anything else to use TFS.
TortoiseGit can be used to update the MvvmCross source placed in the TeaLight directory. When you rightclick on the MvvmCross folder you can press "Git Sync..." followed by "Pull" to pull all new updated from the server.
Tortoisegit: [1]
Prerequisite: "Full+installer+for+official+Git+for+Windows"
Ad blocker interference detected!
Wikia is a free-to-use site that makes money from advertising. We have a modified experience for viewers using ad blockers

Wikia is not accessible if you've made further modifications. Remove the custom ad blocker rule(s) and the page will load as expected.